Juanita's Fund
Our Emergency Medical Fund for Vulnerable Animals
Juanita McGowan was the grandmother of one of our volunteers and a member of the Mexia community for eight decades. She loved her pets, but too often couldn't afford good veterinary care for them when they became very sick or injured. Euthanasia would be the only option in those days for serious injury.
This fund was created in her memory with a mission to provide life-saving emergency medical care for communiity pets who have life-threatening medical needs with owners who just cannot pay the veterinarian bills or care for the pet anymore. Our regular budget is so stretched thin that we typically cannot pull from our fixed budget for these expenses.
In 2021 HOT-PAWS & The Kittery joined together to create a fund for emergency medical expenses for dogs & cats who would otherwise be euthanized or be left to an unsafe circumstance. Local vets now call us when it's possible to save a pet, but the financial circumstances will cause the care to not be given and euthanasia many times the ony other option.
You can help by making a donation today!
---
Meet Gus
Our Most Recent Juanita's Fund Recipient
Recently, HOT-PAWS volunteer Teena Allen brough Gus to our attention.  A family member had a pup named Gus that was severely injured when his people were at work one day.  At first, it appearted that he had been shot.  We aren't going to show you all the injury photos because of their graphic nature.   
Teena went over to help Gus where she cleaned and dressed the wound.  They soon realized that the wound was too catastrophic for them to fix.   He needed a veterinarian and would not improve without intense care that they could not afford.  They may have to euthanize Gus. Teena called HOT-PAWS President, Liz Kadin to try to get help.  As an acive volunteer and foster, she'd heard of this emergency medical fund.  In order to get to a veterinarian who would be affordable in this emergency, Teena and her elderly mother drove gus 2 hours to Athens, Texas, to Vetinary Medical Center.  Teena said they were so patient and professional and gave Gus the best care. They determined that he was a very sick boy and would need to be left overnight and thenn have to a complete Scrotal Ablasion.  When Teena went to get Gus the next day, the doctor explained that although the wound appeared that it could be a gunshot, it was actually an injury from another dog that had become infected by the other dog's salavia.  
Teena wrote Liz to say that "without her help and the Juanita's Fund, Gus would not be here now. He is such a character full of funny antics and loves toys especially the squeaky snake and he follows me with every step I take there he is.
She goes on to say "We will be sending the Juanita Fund money on a weekly basis until Gus's bill has been reimbursed and then we will continue to donate to them."  
He would not have survived without medical intervention.
Gus also has a new name  Gus Kadin, Kadin added in honor of HOT-PAWS's president.  
---
Bella and Angie
A Miracle Match
Bella was found injured by a concerned citizen and taken to the Buffalo Animal Hospital in Buffalo, Texas. She had severe injuries and had to have her leg amputated. With no one to claim her, she was set to be euthanized. She became the very first recipient of Juanita's Fund. She went on to thrive and was adopted by Angie Burchfield who is also an amputee herself. We get updates occasionally from Angie and Bella is living her best life ever!
Angie wrote us this: "Isabella has been the greatest addition to our family. I'm an amputee, having had my right leg amputated below my knee when I was nine months old. I'd always wanted a cat that was like me."
"My mom and I both saw posts about her and took notice. When Bella was officially listed for adoption, we just knew we had to take her. We were at a doctor's appointment that day and just couldn't wait until we got home to fill out the adoption application, so I filled it out while we were waiting for the doctor.
From the minute we brought her home, she has been the sweetest girl! Bella loves to play, loves to cuddle, and LOVES to talk. She's got the cutest little squeaky meow and will hold a whole conversation. She even drools a little when she's particularly happy. With me being an amputee, it is the coolest thing for me to have this cat around the house that's like me! Her little bouncy walk is precious, but when she runs you'd never realize that leg is missing. It's still amazing to me how sweet she is after all that trauma she went through with it being injured and losing her leg. She's a fighter, no doubt about it!
Our lives are so much better with this sweet girl, it's a wonder how we ever lived without her. We're forever grateful to Mrs. Liz and the Kittery for making this possible and saving her life."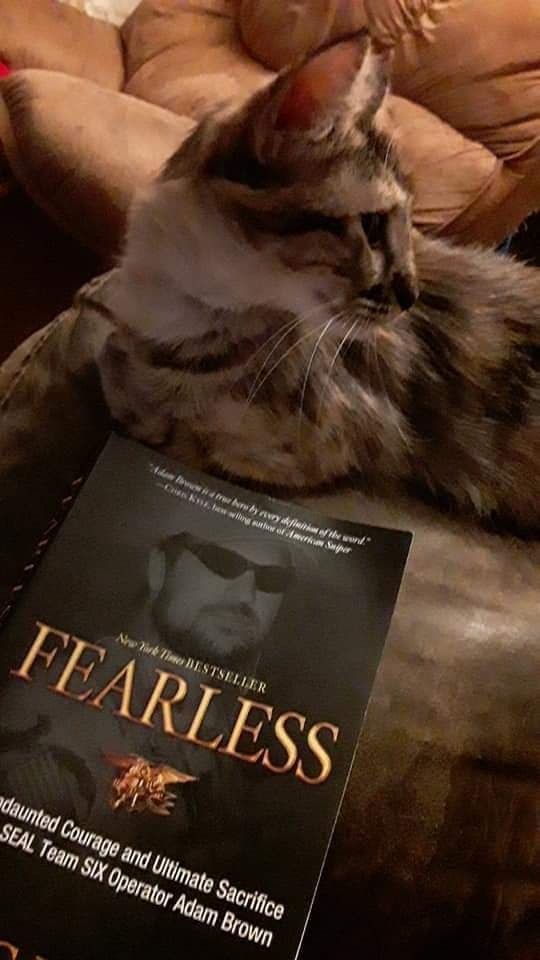 ---
Recipients of Juanita's Fund Proceeds
Most of the pets shown here have gone on to live loving, productive lives. If we can help save a beloved pet's life and money is the only obstacle, we want to try to do it.
| | | |
| --- | --- | --- |
| 1 | Elvis | Cat with Bullet Wound |
| 2 | Jezebel | Dog with infected broken teeth to be euthanized because of age |
| 3 | Jingles | Dog with emergency reproductive surgery |
| 4 | Lucky | Cat with tail amputation and mouth injury |
| 5 | Marlin | Cat with broken femer a few months after adoption |
| 6 | Mattie | Cat with bullet wound |
| 7 | Mr. Fiesty | Cat with broken femer. Unfortunately, Mr. Fiesty died. |
| 8 | Nellie | Dog needed emergency surgery |
| 9 | Oscar | Dog with severe fracture of right femur and dislocated left hip |
| 10 | Ruger | Dog with gunshot wound needed leg amputation |
| 11 | Simon | Cat with FIP.  We saved his life with months of treatment. |
| 12 | Bruce | Dog with leg amputation |
| 13 | Lady | Kathy's dog Lady to sleep as she was suffering |
| 14 | Mamma Dog | Dog with emergency reproductive surgery |
| 15 | Kathy's Dog | Emergency surgery |
| 16 | Donna's Dog | Emergency surgery |
| 17 | Cuba | Dog with Cord wrapped around leg cut almost to tendon |
| 18 | Blackie | Cat that had an auto immune disease & was emaciated |
| 19 | Honey | Chihuahua that was found as a stray and was in liver failure.  |
| 20 | Barbie | Parvo case from Rice, TX |
| 21 | Walker | Dog with leg amputation |
| 22 | Annabelle | Spay surgery |
| 23 | Dolly | Spay surgery |
| 24 | Yolanda | Spay surgery |
| 25 | Penny | Dog with eye damage – originally thought her eyes had been forcibly removed |
| 26 | Marjorie | Dog leg amputation |
| 27 | Flower | Dog with severely injured leg |
| 28 | Zena | Spay and rabies for community dog |
| 29 | Blue | Emergency surgery |
| 30 | Baby Girl | Little dog with cancer |
| 31 | Ziggy | Dog hit by car |
| 32 | Gus | Community dog with severe leg injury |
| 33 | Lucky | Cat with broken leg |
| 34 | Jackson | Dog surrendered for euthanasia with pneumonia. |